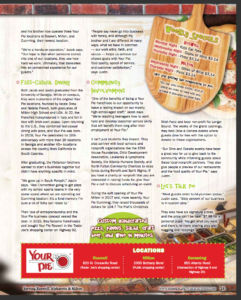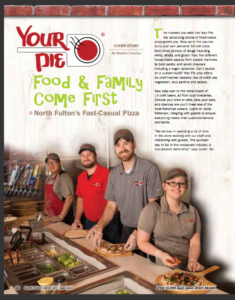 This cover story was originally published in North Fulton Family Life May 2019.
Food & Family Come First Your Pie Franchise Owners Share the Work that has Lead to Their Success
The moment you walk into Your Pie, the tantalizing aroma of fresh-baked pizza greets you. Step up to the counter, build your own personal 10-inch pizza from three choices of dough including white, wheat, and gluten free; five different house-made sauces from classic marinara to basil pesto; and seven cheeses including a vegan selection. Can't decide on a custom build? Your Pie also offers six chef-inspired classics, two of which are vegetarian, plus paninis and salads.
Now step over to the menu board of 14 craft beers, all from local breweries. Choose your brew or wine, take your seat, and chances are you'll meet one of the local franchise owners, Justin or Jacob Patterson, mingling with guests to ensure everything meets their customer-service standards.
"We believe in spending a lot of time in the store working with our staff and interacting with guests. The quickest way to fail in the restaurant industry is non-present ownership," says Justin. He and his brother now operate three Your Pie locations in Roswell, Milton, and Cumming, their newest location – [all three in Georgia.]
"We're a hands-on operation," Jacob says. "Our hope is that when someone comes into one of our locations, they see how hard we work. Ultimately, that translates into an unmatched experience for our guests."
Fast-Casual Franchise Dining
Both Jacob and Justin graduated from the University of Georgia. While on campus, they were customers of the original Your Pie locations, founded by locals Drew and Natalie French, both graduates of Milton High School and UGA. At 22, the Frenches honeymooned in Italy and fell in love with brick-oven pizzas. Upon returning to the U.S., they combined fast-casual franchise dining with pizza, and Your Pie was born. In 2018, Your Pie celebrated its 10th anniversary with more than 20 locations in Georgia and another 40+ locations across the country, from California to South Carolina.
After graduating, the Patterson brothers wanted to start a business together but didn't have anything specific in mind.
"We grew up in South Forsyth," Justin says. "And I remember going to get pizza with my school sports teams in the very same space where we are opening our Cumming location. It's a fond memory I'm sure a lot of folks can relate to."
Their love of entrepreneurship and the Your Pie business concept sealed the deal. In 2015, they became franchisees and bought Your Pie Roswell in the Trader Joe's shopping center on Highway 92.
"People say never go into business with family, and although my brother and I are different in many ways, what we have in common – our work ethic, faith, and values – helps us achieve our shared goals with Your Pie: food quality, speed of service, and customer satisfaction," says Justin.
Community Involvement
"One of the benefits of being a Your Pie franchisee is our opportunity to leave a lasting impact on our mostly high-school-aged staff," Jacob says. "We're teaching teenagers how to work hard and develop customer service skills that will benefit them long after their employment at Your Pie."
It isn't just students they impact. They also partner with local schools and nonprofit organizations like the STAR House Foundation, Child Development Association, Leukemia & Lymphoma Society, the Atlanta Humane Society, and North Fulton Community Charities to raise funds during Benefit and Spirit Nights. If you have a charity or nonprofit that you are interested in raising funds for, give Your Pie a call to discuss scheduling an event.
During the soft opening of Your Pie Milton in 2017 and, more recently, Your Pie Cumming, they raised thousands of dollars for 104.7 The Fish's Christmas Wish Fund and local non-profit No Longer Bound. The weeks of the grand openings, they held Dine & Donate events where guests dine for free with the option to donate to these organizations.
"Our Dine and Donate events have been a great way for us to give back to the community while informing guests about these local nonprofit partners. They also give people a preview of our restaurants and the food quality of Your Pie," says Justin.
Let's Talk Pie
"Most guests order build-your-own pizzas," Justin says. "Sixty percent of our business is in custom pies."
They also have six signature pizzas, and the price can't be beat: $7.99 for a personal pizza. You get what you want, and there's no more sharing pies and haggling over toppings.