Franchise Update Features CMO as Top 20 Female Franchise Leader
This interview was originally published in Franchise Update Q1|2020. It has been edited to fit this format.
Each year, beginning in 2014, we've dedicated our first issue of the year to Women in Franchising. This year we asked 20 female franchise leaders two questions:
1. What advice would you give to women seeking the franchising C-suite?
2. Describe your job in 100 words.
We received some inspiring responses, which we hope will inspire aspiring women. Our own advice to women seeking a seat in the franchising C-suite? Read on – and go for it!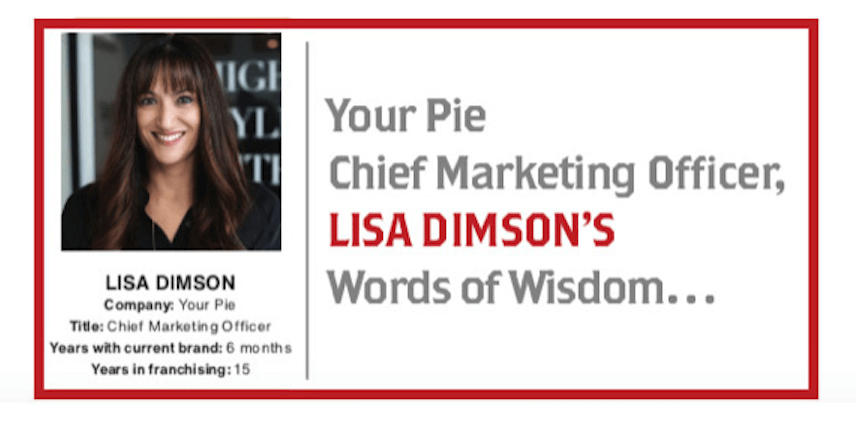 What advice would you give to women seeking the franchising C-suite?
To be successful in a franchising organization, it's important to understand that your ability to make an impact truly relies on your capability to build relationships. This is true for any position within a franchising organization. The rise into the C-suite shouldn't change this philosophy, and my advice to any leader is wrapped around the verb "be." Build relationships by being present, mindful, and engaged with your team, your franchisees, and your guests. This purpose-driven action will allow you to lead your business successfully, while making a difference in the lives you touch. I personally believe that leaders should be bold, brave, and brilliant in their pursuit to reach their goals for their brand. Leaders may not have all the answers. However having a high level of intellectual curiosity, a "Yes and" approach, complemented with treating others with respect, is a great path to a rewarding career in franchising.
Describe your job in 100 words.
I lead our growth strategies to drive results to enhance unit-level economics for our franchisees, while also supporting brand development to bring Your Pie Pizza to more communities nationwide. In marketing, there are always competing ideas and priorities, so part of my role is a forward-thinking focus on innovation and finding effective solutions that drive measurable results, both at the brand and individual store levels. In today's landscape, we have to leverage technology strategically to reach our customers, so a big priority for me is helping us stay ahead of the technology curve to deliver a personalized and frictionless experience to our guests' ever-changing lifestyles.