A Note from Drew: 10 Year Anniversary Wrap-up
This year, we had the privilege of celebrating 10 years of Your Pie. We knew we wanted to commemorate the anniversary in a big way by celebrating all of the people and experiences that brought us to this point, so we decided to thank the Your Pie Family with a series of giveaways over the course of three months. Throughout the summer, we rolled out six limited-edition pizza boxes, each uniquely designed to illustrate different facets of the Your Pie story. To enter each of our giveaways, guests simply had to share a photo of their pizza box on social media using the hashtag #expressyourinnerpizza.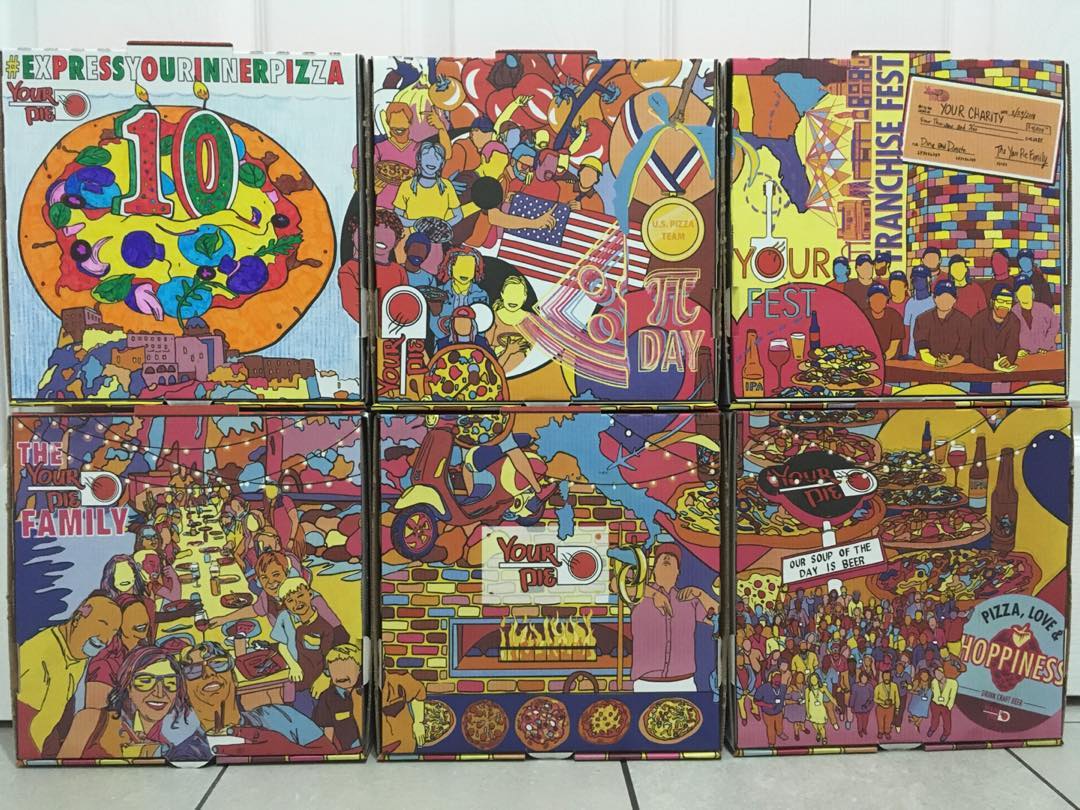 Each of our giveaways was related to the Your Pie story in some way. For those of you who don't know, Natalie and I came up with the Your Pie concept while honeymooning in Ischia, Italy—a small island off the coast of Naples. Gelato was a huge part of our honeymoon trip, and we knew that our brick-oven pizza concept would have to feature authentic, Italian-style gelato. For our first 10-year giveaway, we offered a trip to Florida, featuring a one-of-a-kind tasting with our Italian gelato purveyor, GS Gelato.
Next, we offered a Dine & Donate event to raise funds for a local charity of the winner's choosing. Community is a core value at Your Pie, and each of our new stores hosts three days of Dine & Donate events benefiting local charities prior to their grand opening. For our 10th anniversary, it seemed like natural fit to gift one of our loyal customers with a special Dine & Donate event for a local cause close to their heart.
Other giveaways included a waived franchise fee for a qualified winner, and a handmade table from Your Pie's artisan table vendor, Made in Monroe. Customers collected boxes all summer long to enter each of these giveaways—but many had their sights set higher, on our grand prize: a $5,000 trip to Ischia, Italy. To be eligible for the grand prize, customers had to collect all six artfully designed pizza boxes and arrange them to form one cohesive image. They then had to share a photo of that image on social media with the same hashtag, #expressyourinnnerpizza, and a caption sharing their Your Pie story.
We awarded the grand prize trip to Tony and Jennifer Esposito, a couple who got married on Ischia 10 years ago! We were blown away by how closely their story aligned with our own—they even shared photos from their Ischian wedding with their entry. Natalie and I are always surprised when someone else has even heard of Ischia, nonetheless traveled there. Tony and Jennifer's story started on Ischia 10 years ago, and we are thrilled to send them back to where it all began.
Our customers' stories are what make Your Pie special and what inspires each of us to get up every day and work toward continual innovation and improvement. We're so thankful to everyone who participated in our 10th anniversary giveaways this summer and look forward to stepping into Decade Two with you.
Lastly, I would be remiss to let this milestone pass without recognizing the dedication and hard work of the franchise owners and corporate team who live the Your Pie mission daily.  We truly could not do it without you. As we look toward next 10 years, I am grateful for the roots we have planted and am excited to watch those continue to flourish in new and existing communities, in the hearts of our team, and in our lasting commitment to quality and service. Thank you, from the bottom of our hearts, for sharing in this journey with us. Here's to Decade Two!