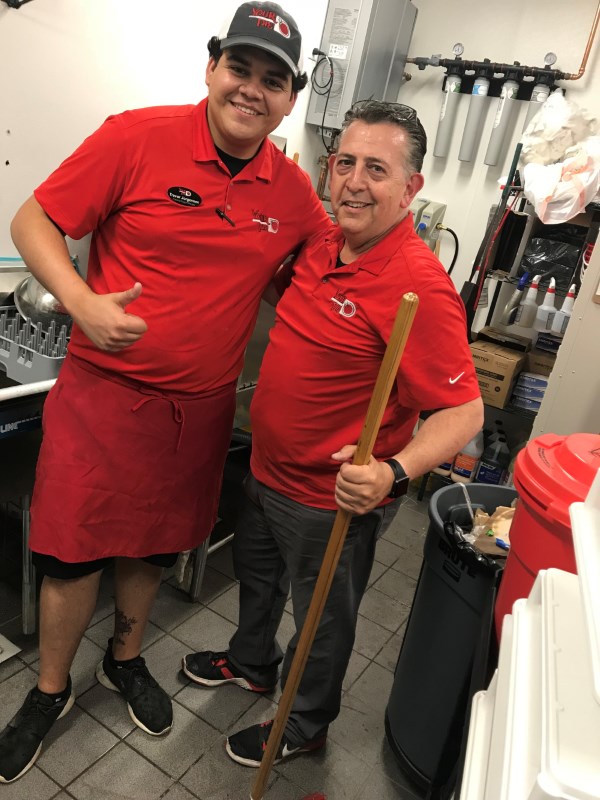 It goes without saying that a franchise owner wears many hats. Of a franchisee's many responsibilities, one of the most important is building a team that reflects the integrity of the business, a passion for the craft and an attitude of care. I firmly believe that creating a positive work experience translates directly into an exceptional guest experience. Cultivating an all-star team is hard work, but—like a parent raising a child—the investment of time and effort is always worth it.
1. Be picky for passion
Developing a great team starts with hiring the right people. When hiring, intangibles like attitude, communication and interpersonal skills should be given equal consideration as relevant work experience or technical skill. Take hiring very seriously for every applicant, regardless of age or position. Whether it's full time or part time, a first high school job or first step of a career, building a team of passionate people with a desire to learn and grow will result in fantastic chemistry for your team. Hire your team based on the experience you wish to create for your customers. If your atmosphere is warm and family-friendly, hire people whose character reflects that—and then teach them the technical skills they will need to be successful.
2. Expect the extra mile
When looking for candidates, always request a resume and take notes while listening intently during interviews. If you expect high professionalism from candidates on day one, they will quickly realize this job is more than a way to earn extra cash; it is a place for them to grow and thrive. The highest compliment you can hear from a team member is that yours was the "best first job ever." Why? Because that means you have successfully created a fun and positive work environment, while simultaneously providing an enriching job experience that helps prepare your team members for their next chapters.
3. Embrace the Z
Generation Z team members serve as both an exciting challenge and incredible blessing. It's true—this generation is attached to mobile devices and social media; but they are also very astute. Many Gen Z team members are quick learners and want to please people, which generally translates to good customer service. They also love to be challenged, which makes for an enthusiastic work environment. Embrace your Generation Z team members and utilize their skills and inherent knowledge to bring an added element of understanding and excitement to your team.
4. Bring service close to home
What was the worst customer service you ever received? It has happened to everyone at least once in their life. Ask your team to recall a situation when they did not feel valued as a customer, and use those feelings of frustration as a catalyst to identify and replicate positive experiences. Everyone can easily remember both experiences—good and bad. Challenge your team to choose how they would like to be remembered when customers leave your establishment. Teaching the "why" behind great service, and then linking it with a personal experience, will make them exponentially more conscious of the way they interact with customers.
5. Empower and reward
Once you have interviewed, hired and trained a team—it's GO time! First, set the example. You cannot expect people to do as you say and not as you do. The best way to inspire action is to set an example of accountability and trust. Next, challenge your team both individually and collectively. Work with each team member to set specific, attainable goals for personal growth and empower them to succeed. Finally, reward. Thank your team members day in and day out to let them know they are valued and appreciated. People inherently want to feel appreciated, even in the simplest of daily duties. For bigger goals, you can also consider rewarding with gift cards, cash and other perks when appropriate. All of these small but important elements make for a team that will be spirited to embrace your vision of excellence.
Simply stated, happy team members make for happy guests. From the moment customers arrive in the parking lot, to when they return again and again, customer sentiment is a result of small, combined experiences. Everyone expects quality service, delivered accurately and in a timely manner, but what separates you is the way you make people feel. Team members who are satisfied tend to strive for the second level of service—going beyond what is expected to create a "wow" experience. That consistent, second level of service to a guest is what drives repeat business and creates memorable experiences.
Bob Rosato joined the Your Pie family as a franchise owner in 2015. Bob and partners opened their first location in Peachtree City, Ga., in Sept 2016. His new location in scheduled to open in downtown LaGrange, Ga., in June 2018. Bob began his career in law enforcement in Hollywood, Fla., before embarking on a sports media career that has spanned more than 32 years. Bob currently resides in Peachtree City, Ga. with wife Cindy and their two daughters.