Award Winning Craft Pizza Returns to Your Pie
Your Pie announced the return of its award-winning Craft Series offering, the Peach Prosciutto Pie, now available through August 8.
The pie features a base of fresh olive oil and creamy ricotta, topped with savory prosciutto and a blend of mozzarella and Parmesan cheeses.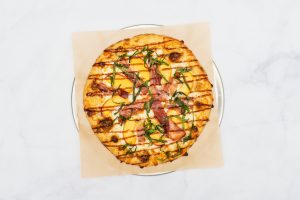 The rich flavors are then topped with fresh peaches and baked to perfection in Your Pie's signature brick oven. After baking, the pie is finished with fresh basil and a house-made Honey Balsamic Glaze. Like all Your Pie pizzas, the Peach Prosciutto is made with hand-tossed dough, fresh ingredients and baked to order in a brick oven, per Italian tradition.
The savory-sweet earned Your Pie Founder Drew French a spot on the United States Pizza Team, where he competed at the 2016 World Pizza Championship in Parma, Italy. In Summer 2017, the Pie was named one of America's Most Innovative Menu Items by QSR Magazine.
Read the full story here.