Beer Heroes: Father & Son Franchisee Duo
Paul and Michael Childers, the father/son franchisee team in Savannah, GA are some of Your Pie's earliest adopters and have been Craft Beer advocates from day one. They made the decision to join the Your Pie family after visiting Athens in December of 2009, and opened Savannah Downtown in 2010 and Savannah Sandfly in 2011. Last year they took the plunge with Store Number 3 in Pooler, GA last year and they anticipate a fourth store by 2019.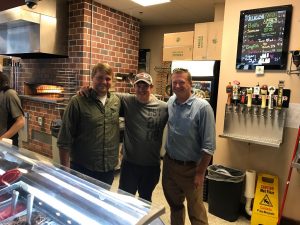 The duo's success is primarily attributed to their Food First mentality, one of Your Pie's Core Values, that will eventually lead them to open a fourth store.
"To us, Food First means that there are no exceptions for the quality of product that you put out. It's about having the right ingredients, and making each pizza up to standard every time if it doesn't meet the standard then it needs to go. Teaching that, explaining that, is one of the most important things we do here: the team member should be in the mindset that every pizza we make should be up to par." according to Michael.
Michael and Paul have been in the Your Pie family since day one and are huge advocates for innovation in the franchise. "From my perspective, it has always been about the food. If it didn't taste good we wouldn't have gotten into this brand at the very beginning. On our first visit, we were won over once we walked inside, tasted the food, and saw the interior and the people. Never mind what we do with all our fancy marketing and brand presentation and all that, if the food sucks, that stuff doesn't matter," said Paul. Contact our leadership team to learn about more pizza franchises for sale in Georgia.